How One Yoga Retreat Changed Everything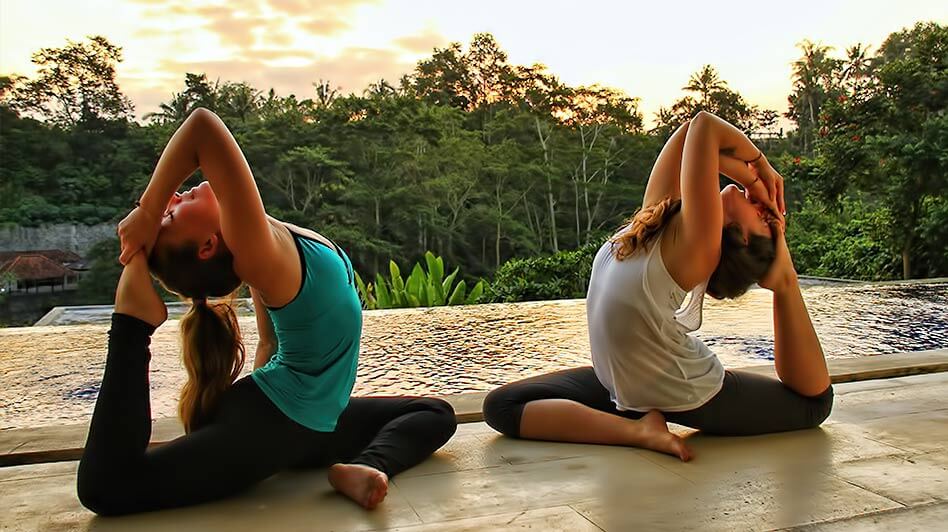 W

hen I found Blooming Lotus Yoga, I had been practicing 'yoga' for 8 years. My practice was mostly physical with no ultimate goal in mind other than maintaining a healthy body and finding a little peace.

My love of the yoga I knew then, lead me to a 5-day yoga retreat in Koh Phangan, Thailand. I came with little expectations, other than advancing my physical practice and enjoying the beauty of the island.
As it went, instead of mastering handstand as I had hoped, a large portion of our time was spent in meditation.
I had heard of all the wonderful ways meditation could change my life, but the 'calm and quiet place' people spoke of certainly didn't exist within me, or so I thought at the time.  Although I had attempted to meditate on several occasions I had eventually decided it just wasn't for me. At the yoga retreat I had little choice in the matter and though I initially resisted, I am eternally grateful for what happened next.
The Journey Into Stillness
The retreat leader, Ashley, shared her personal practice as learned from her teachers and expected us to sit for an excruciating 30-45 minutes each morning. The first two days were torture as I failed to quiet an endless stream of thought.
Yet, by the third day, something within me shifted. For the first time in my life, I began to notice pauses between the thoughts and as that space began to expand I felt an inner aliveness and sense of bliss that was so unfamiliar it shocked me to the core of my being.
My entire life I had been plagued with fears and anxieties; when things were good I was filled with fear of it ending, and when things were bad I fell into a victim mentality. I was constantly trying to control my life instead of actually living it. For the remainder of my time in Thailand, I experienced pure presence and just being for the first time. I suddenly had a burning desire for truth and to understand the power of meditation on a deeper level.
When the retreat was over, Ashley informed me that her teachers were leading a yoga teacher training the upcoming summer. She encouraged me to apply if I wanted to deepen my understanding of Yoga. Nine months later, I found myself in Bali for what is formally called the Blooming Lotus Yoga 200-hour Yoga Teacher Training, and what I came to find out was ultimately a journey of self discovery.
Diving Deeper into the Heart of Yoga
My relationship to asana has shifted as result of my experiences at both my yoga retreat and teacher training courses. I first came to yoga asana as a means to the healing power of presence and stillness, but somehow along the way asana became goal-oriented for me.
As a result of the superficial teachings I received in most of the yoga asana classes I visited, my primary objective for practicing yoga became succeeding in holding the most complicated poses. It became another way in which I identified with my physical form, remained in suffering and ignored my true nature.
The classical teaching of Yoga I received helped to free me from this trap. I still practice asana daily and celebrate the temple of my body, but asana now serves primarily as a means to balance myself energetically in order to find stillness and depth during meditation.
Meditation is the greatest gift I have received from my retreat and teacher training course. Over time my meditations have deepened, and mental conditioning, suppressed emotions, insecurities, and ideas of who I am or who I should be have started to slip away.
I am creating a new relationship with my thoughts, reminding myself not to identify with them, but to simply be an observer of them. I have learned to notice negative thought patterns as they begin to arise and choose to let them go rather than being overtaken by them.
I have begun to see the perfection in the chaos of my past, how every 'mistake' I have made has been exactly what I needed to start the process of waking up. As I foster a greater capacity for self-love and forgiveness, I am also cultivating deep compassion for others.
Meditation has shown me my wholeness and perfection, while humbling me as I recognize the divine in all beings. Little by little, my consciousness has begun to shift so that I can step back and see this life as a divine play. Whatever comes, whatever goes, the core of my being, my true nature, remains unchanged.
Embracing The Bliss of Being
My understanding of Yoga and myself have simultaneously shifted after finding my teachers at Blooming Lotus Yoga. Their teachings of pure love and compassion have been distilled from the enlightened masters and saints, and are of the essence of Yoga.
They have taught me that Yoga is much more than asana; it is a letting go of all concepts, living in truth, and being free. How I came to find Blooming Lotus Yoga in the ever-growing world of yoga teacher training programs is inexplicable to me in any rational way.
From the time I first stepped into the yoga retreat in Thailand, to today in Bali as I complete the Yoga Teacher Training program for the second time, I have felt that I have come home.
I am infinitely grateful to Lily and Ramananda for holding a sacred space and sharing the wisdom necessary for me to start the journey home to the bliss of being. By their emanation of pure ego-less love, they have opened my heart and transformed my life. I now choose to make Yoga my path towards true eternal happiness.
Ultimately, I know it wasn't my choice, but the One Eternal Consciousness that continues to pull me in the direction of home.