SPREADING
THE LIGHT:
 A Look Into The Charitable
Projects You Help Us Support
LIVING YOUR YOGA | BEGINNER
THe AIM OF YOGA IS To Return BACK TO ONENESS
and to dissolve the concept of self and other

.
Ultimately all the practices of yoga asana, meditation, and the devotional practices of prayer and offerings lead us to the experience of love for all of creation. At Blooming Lotus Yoga we are overwhelmed with all the love and gratitude we are blessed to live with and continually give back to those who are less than fortunate. 
Spreading the Dharma, in order to alleviate the deepest causes of suffering, through yoga and meditation is one part of our mission, yet, as we spread the teachings of liberation to the blessed souls who join us, we also give back to our brothers and sisters who are experiencing a lack of the most basic of human needs – food, health care, and education.
There are innumerable organisations and groups doing karma yoga (the yoga of action) to help those who are in need of support and we have chosen to partner with a few that have touched our hearts with their sincerity and dedication to serving humanity.  As we donate a significant portion of the proceeds from our courses and retreats, here are some of the projects you help us support. 
Ni Komang Sriani saying thanks to the participants of our retreats and courses
Empowering Bali's children through the gift of education
Our friends at the Bali Children's Project have been devoting themselves to improving the life of Balinese children through quality education. Currently the organisation impacts thousands of children here in Bali through multiple education and disaster relief programs. For the last 2 years, donations from Blooming Lotus Yoga were used for the "backpacks" program so that the children in rural villages, without previous access to proper schooling, can escape the poverty cycle with the necessary supplies they need to attend school. 
The New Blooming Lotus School
Bali Children's Project have just completed another kindergarten renovation after we made a donation to renovate Demulih Kindergarten.  Established in 2001 by villagers who recognized the need to provide early stage education, Demulih Kindergarten had become a worn out and old – not providing a quality learning experience for its 71 young students.  The paint was peeling off, holes in the roof meant there were leaks in rainy season and the school had very little supplies for the children to learn.  The teacher's had tried hard, but with a lack of supplies, an old building, and limited teacher training it became an uphill struggle.
That has now all changed, as the roof has been fixed, the school has been repainting, new furniture added, ample supplies provided and two huge new murals, with lotus flowers as the theme, have been painted.
The children now have a beautiful new kindergarten and will be receiving ongoing teacher training from Bali Children's Project too.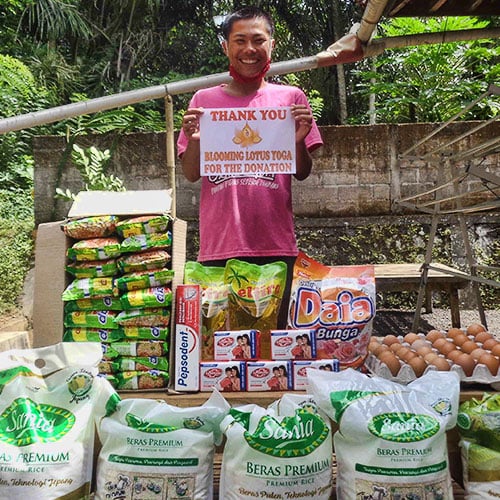 When Bali closed it's borders, most families lost a significant portion of their income, as tourism ground to a halt and left many people out of work.
Those already living in poverty have had the most difficult time and to help ease their burden, Bali Children's Project began to distribute food packages to many families throughout the island.  We have been able to continue giving, even in these challenging times, and donated enough funds to support 22 families with enough food to last them about 1 month.
DISASTER RELIEF IN INDONESIA
Indonesia is one of the most seismically active places on the planet, and in 2018 tens of thousands of people suffered due to several natural disasters. Living in Indonesia we are reminded that we have no choice but to be in surrender to the unpredictability of the land. While we are grateful that in Ubud we remained unaffected, many of our brothers and sisters in North Bali, Lombok, and Sulawesi were severely impacted. The Blooming Lotus Yoga family was able to to donate funds to support the emergency medical relief efforts in both Lombok and Sulawesi through Bumi Sehat and the Ubud Hotel Association. These funds helped to bring clean water, food, health care, and necessary supplies to many who had loss their homes due to evacuation or destruction.
Blooming Lotus has continued to give to the ever blossoming home for orphaned children in Rishikesh, India. These donations have helped to feed the orphans that have been rescued from the streets of India and sponsored 4 children to attend school. Ramana's Garden was blessed to receive THE ONE International Humanitarian Award in 2018 by Rotary International, Hong Kong. Ramana's Garden is using the money from this award to build more housing for children in need.
WHEELCHAIRS IN ANDHAR PRADESH
Charitable funds from Blooming Lotus Yoga allowed 16 wheelchairs to be given to disabled individuals in the South Indian state of Andhra Pradesh. These beautiful souls can now experience the incredible gift of mobility and independence.
India is a sacred land from which emerged many ancient wisdom traditions. The Rishis first recorded these teachings and passed them down to the saints and sages that continue to guide truth seekers to liberation. Each year the founders of Blooming Lotus Yoga and many of their students return to India to deepen their own sadhana and connection to these sacred teachings.  However, in the wake of globalization, many of the ancient monuments and sacred temples are being lost. As the desire for liberation is being replaced by the desire for material prosperity, the traditional teachings of yoga are becoming more difficult to access and are slowly being forgotten. Blooming Lotus Yoga has made significant donations to encourage cultural preservation, to honor our lineage and offer gratitude to the birthplace of yoga.
WE WOULD LIKE TO SAY THANK YOU
for being a part of the Blooming Lotus Yoga family and helping us spread light and love to humanity. 
If you want to join our amazing team and volunteer any amount of time, we have numerous seva opportunities that are very flexible and allow you to give as much or as little as you wish
.