An Introduction to Nyepi : Bali's Day of Silence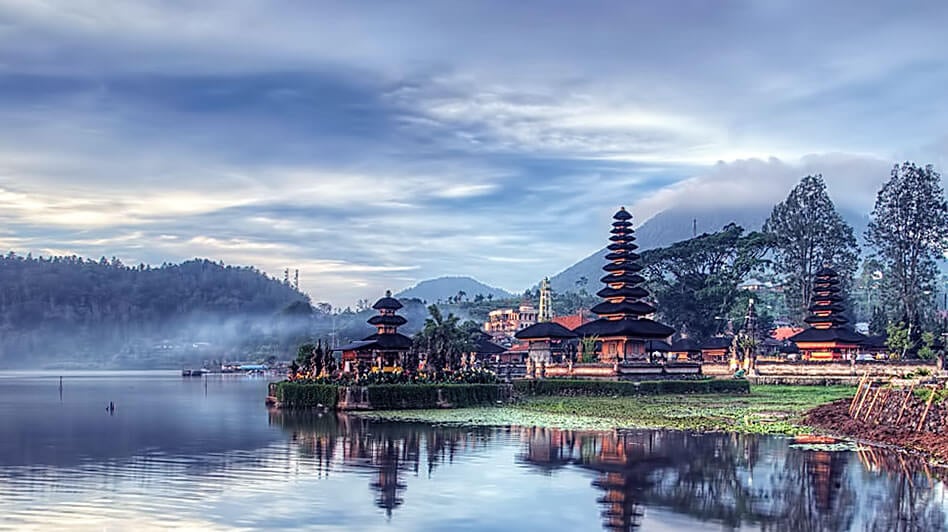 O

n Saturday, March 17, 2018, the day following the New Moon of the Spring Equinox in the Balinese calendar, the entire population of Bali will open the new year with a day of complete silence and deep introspection.

That's right. The entire island is blissfully silent. The streets are empty and silent, with the exception of a few dogs barking and birds singing. People don't leave their house. They don't work. They do not participate in any activity other than spiritual practice, meditation, or introspection. Many people even fast for the whole day!
For those looking at this special occasion from the outside, this day may sound challenging, fascinating, mystical or intriguing altogether!
So here's the scoop — why and how the Balinese celebrate this occasion, and how you can participate!
The Days Leading up to Nyepi
Leading up to the formal day of silence, the Balinese undergo three or four colorful days of unique ceremony and ritual with symbols that help to concentrate the mind in order to become closer to their Spiritual Source, the One Eternal Consciousness that exists in all Beings everywhere.
Nyepi is a day to focus upon and maintain the delicate balance of nature. The colorful ceremonies aim to cleanse and purify nature in all its forms. They take water (known as
The colorful ceremonies aim to cleanse and purify nature in all its forms. They take water (known as Amrta or Tirtha— the source for eternal life) from the ocean, rivers, lakes or other holy water sources. The Pedandas and Mankus (holy people) then use this water for special ceremony and blessings. Temple accessories and statues of the Gods and Goddesses from all the village temples are brought in a long and colorful procession to the ocean, a water spring, lake or river to be bathed and blessed by nature invisible forces with extensive and elaborate ceremonies. You'll see a devotional parade accompanied by the music of a unique Gamelan orchestra and followed by all villagers dressed in colorful traditional temple clothes.
For many months before Nyepi day, talented Balinese people from every village craft a remarkable, monstrous looking sculpture that they call Ogoh-Ogoh. These comical monsters typically have thick fangs, bulging eyes, messy hair and are a symbol of the shadow aspects of life and the human mind like anger, greed, lust, jealousy, pride, etc.
The night before Nyepi Day, the Balinese partake in several communal prayers to cleanse all impurities from the mind, body and nature. They parade the ugly demon statue around in the streets and play music to symbolically 'evoke' these shadow aspects.
And finally, when dusk arrives, the Ogoh-Ogoh is illuminated by torches and ceremonially burnt to the ground, bringing nature and people back to their original nature or Dharma, so all may live in peace and harmony for a brand new year.
On Nyepi day itself, every street is quiet – no one is doing normal daily activities. Street traffic is not allowed; no cars, no motorbikes, nor people – all are expected to stay in their own houses. Ngurah Rai International Airport, Bali's  airport, is even closed for the day! Light is kept to a minimum or not at all, radios and TV's are turned off and, of course, no one works.
On Nyepi the island is expected to be pure and clean and everything starts anew.
The Balinese people spend this day in deep spiritual practices of introspection, meditation, prayer and performing unique rituals and ceremonies on behalf of creating balance within and without for the peace, harmony and spiritual remembrance of all of humanity.
What to expect on your Yoga Retreat at Blooming Lotus
If you are in Bali on retreat with us at Blooming Lotus Yoga, here are some general rules and recommendations to get the most out of this incredibly auspicious (fortunate) Nyepi day!
With road closures and the strict rule of staying indoors for meditation practices, your retreat teachers, as well as the villa staff will not be allowed to travel to and from the retreat center on Nyepi day. As such, they will all live on-site at the retreat center for two nights.
The yoga teachers and the staff will speak only as much as necessary to lead you through special yoga asana, meditation and introspective practices to fully take advantage of this auspicious day and provide you with plenty of silence to enhance your experience of going deep inside.
Please observe silence, and refrain from all speech. If an urgent matter needs attending you may write it down or speak in a whisper only.
The majority of the island will be completely dark after sunset, though tourist establishments are allowed to have minimal lighting.  As such, please limit your usage of lights after sunset. Please keep all exterior lights off. You may use lights in your own room, but keep the curtains drawn so the light does not affect others who are strictly observing Nyepi day. When traveling to and from your room in the evening, you may use a small flashlight or phone light. Staff will also be standing by to light the walkways on the way to the night-time meditation.
This is a great time for a digital detox! The cable will be shut off on Nyepi day so you will not be able to watch TV. We recommend you spend this day only in meditation, self-reflection, writing and reading that support turning inward. You may use your computers, but please do so with headphones so as not to produce any disturbing sounds or light.
How to Participate World-Wide
Take a day off from work, house-work, and other more mundane activities.
Give yourself the gift of silence for a day, (or even for an hour or a few).
Contemplate and reflect.
Meditate.
Chant mantra.
Fast or eat lightly.
Use this day to inspire your relationship with the world so you may live in greater peace and harmony with yourself, those around you and nature.
"Happy Nyepi Day!" or, "Rahajeng Rahina Nyepi," as expressed in the local Balinese language! May you enjoy this sacred day of silence, spiritual practice and introspection, as a special start to the Balinese New Year!