Living with Ahimsa: Our 10 Favorite Vegetarian Restaurants in Ubud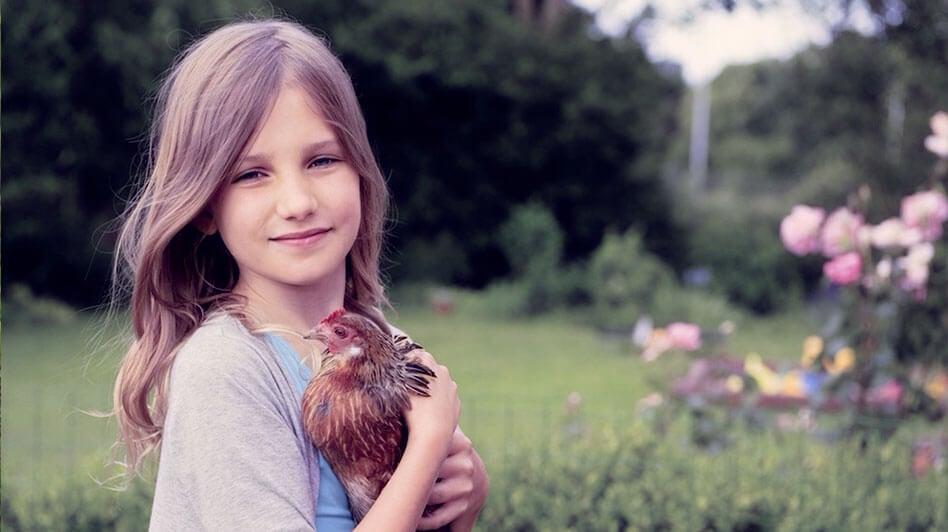 U

bud, Bali is certainly a yogi's paradise when it comes to healthy food and fine dining.

It's as easy as savasana to find healthy, vegetarian, vegan and organic restaurants and dishes of all different flavors, for any dietary preference, and on any budget!
The options here are some of the best in all of Bali, and Ubud is likely THE most vegetarian friendly place you'll find in all your travels throughout South-East Asia.
Below are some of our favorite restaurants (in no particular order) with healthy, tasty and vibrant food you will likely fall in love with.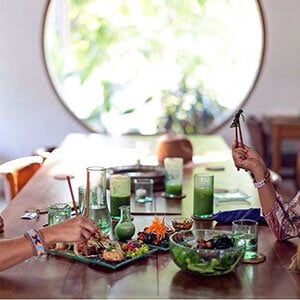 Mid-Range $$$

| 100% Vegan, Gluten Free Options, Raw Options, Local and Organic (when available) 
This 100% Vegan restaurant with many gluten-free options in Nyuh Kuning, is just a 5 minute scooter ride from Ubud's downtown center. Open for breakfast, lunch and dinner, Sage offers delicious, healthy and unique vegan appetizers, entrees, salads, juices, smoothies and desserts.
For breakfast their menu ranges from colorful light smoothie bowls and green juices to breakfast burritos and incredible lattes. And for dinner, try a healthy, giant rainbow colored salad, or if you're really hungry— a filling and scrumptious veggie burger or unique jackfruit tacos!
Sage even has their own natural farm here in Bali. With their conscious decision to use compostable take-away containers, composting all food scraps and using natural, sustainable oils (no-palm oil,) and beautiful, bright and modern space, Sage is revolutionary in Bali for it's sustainability, low-impact methods, presentation and style without compromising great vegan taste!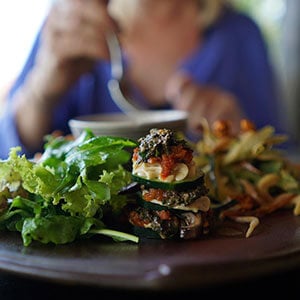 Mid-Range $$$ 

| 100% Plant-Based, Raw Options, Gluten-Free Options, Mostly Local Food
Beautiful, peaceful, open air, plant-based restaurant just 20 min drive from Ubud center. Based on the principles of perma-culture and healthy food, with their own onsite perma-culture garden, their friendly and attentive staff are devoted to bringing you back to health and back to nature.
100% Plant-based, (if your vegan, you can replace honey in some dishes for brown sugar nectar,) half of the Moksa menu is beautiful raw food and the other food is nourishing cooked options to suit all tastes.
With a wide array of unique flavors and beautifully presented raw and cooked dishes, drinks, local coffees and teas, elixirs, and desserts there is a favorite dish for everyone!
Open for business all three meals per day, try their delightful elixirs and smoothies for breakfast, their beautiful Chef Bowl, Moksa Sampler or Jackfruit Tacos for lunch, or for dinner try their Masala Pumpkin Uttapam or delicious Jacky Mignon.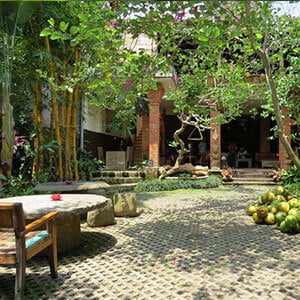 Low-Range $$

| Vegan, Vegetarian and Gluten-Free Options, Organic
Located in the heart of Ubud on Jalan Goutama, this hippy hangout is a hub of community and musical gatherings. Artists and musicians from all corners of the world gather here to jam together at impromptu times, as well as regularly on Saturday during late mornings.
The owner, Rachel Love, poured all her heart into making this cafe something that gives back to Bali.  Everything is sourced from local farmers to the north of Ubud and supports the local communities to continue or switch back to organic farming.  Their ecological values and care for the earth is what really makes Soma Cafe stand out, as the go to place for the eco-conscious.
If you love kale, jamaica, raw pizza, spirulina and everything green Soma's for you.  Their delicious drink menu is full of tonics and elixers that will make your tummy smile.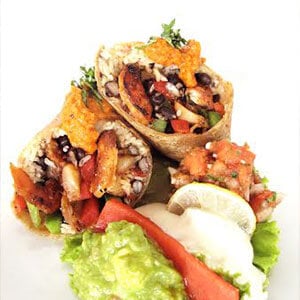 Low Range $$

| Vegan, Vegetarian, Raw and Gluten-Free Options
Clear Café is an incredible and diverse restaurant in the heart of Ubud center with options for every body and every dietary preference.
The Clear Café menu has many options for all types of diets, including raw food, vegan, vegetarian, ayurvedic and pescatarian dishes, which is clearly marked in their menu. Open for breakfast, lunch and dinner with a huge drink menu of smoothies, shakes, juices, tonics and elixirs, coffees and teas and more and 100+ options for dishes of all different international cuisines, plus many decadent desserts— with all the options, you can never get bored!
If you're feeling something super fresh and bright, try their colorful vegetable Dragon Bowl, or for a big more comfort, grounding foots, give their Snow Tofu a try with crispy tofu, mashed potatoes and vegetables in a tamarind gravy sauce.
With great WiFi, cozy setting, and chill vibes it's an easy place to go for breakfast and stay for lunch. It's that good.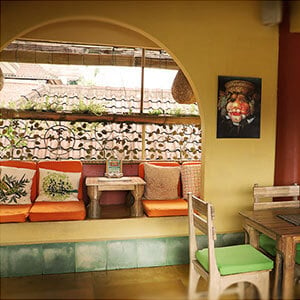 High Range $$$$

| Vegan & Vegetarian, Raw Options, Gluten-Free Options, Superfoods, Local, 100% Organic
In the city center of Ubud is this great vegetarian and vegan café. It's open early for breakfast and late for dinner, with over 70+ healthy food, drink and dessert options to choose from.
The owner is a trained nutritionist and macrobiotic counselor, so all the dishes are great for the body and the taste buds, and operates under strict, western standards of food preparation.
Downstairs from the cozy café is a great natural market filled with items that promote healthy lifestyle— from organic ingredients, spices and produce, to sustainable body care, to health supplements, to natural household cleaners, incense and jewelry.
And next door, is an extension of DTE—Paradiso, the worlds first vegan cinema and event hosting space. Admire large works of art, enjoy tasteful, decorative accents, and try the finest and healthiest food found in any movie-theater ever.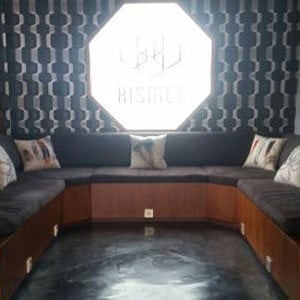 High Range $$$$

| Vegan & Vegetarian Cuisine
Serving breakfast, lunch and dinner, Kismet is a place of gourmet, vegan and vegetarian soul food and incredible service, style and ambience.
Kismet offers stylish, healthy plant-based dishes from cuisines around the world including America food, Asian Fusion, Mediterranean, Indian, Italian, Japanese, Thai and Vietnamese.
This is a place to hangout at for a while with your yoga tribe and have a few glasses of kombucha or chai's together. It's so tasty, even your non-veg friends will love it.
Budget $

| Vegan, Vegetarian, Raw and Gluten-Free Options, Health Food, Preservative-Free
Natural, healthy and delicious food made with love. One of the most affordable healthy eating restaurants, and it's just a 10 minute walk from Ubud centre on a quiet street.
Fussy Bird is a place to come and chill for some delicious vegan food and drinks for a great price. All their food is prepared from scratch and with so much love. They serve breakfast, lunch, dinner, snacks, desserts, raw pies, chocolate, hot drinks, smoothies and, juices.
Try their savory Lentil Krishna dish, grounding Ayurvedic Kitcheri bowl or authentic Vegeterian Nasi Campur.
They also sell healthy teas, body care products and treats for take away!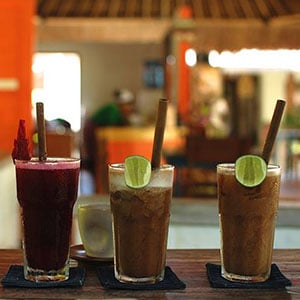 Budget $

| 100% Vegetarian with Vegan and Gluten-Free Options, Fresh and Healthy
A great local place, with high quality food at a low price. At Warung Sopa, you'll get delicious Asian, Western, Indonesian and Japanese vegetarian cuisine on a budget!
Just a 5 minute drive south of Ubud Center, their meals are fresh and hand made.
A great place to try local vegetarian dishes (can be prepared vegan also,) such as Gado-Gado (boiled vegetables with rice, egg, tempeh and tofu with a flavorful peanut sauce— as for no egg and make it vegan) or Vegeterian Nasi Campur (a mixed dish with a variety of flavors usually including uniquely prepared vegetables, rice, tofu, tempeh, and rice crackers with authentic local spices— one dish, many flavors!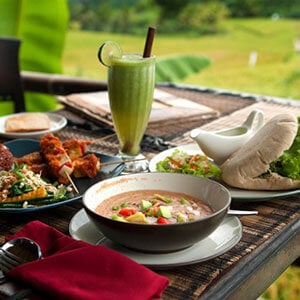 Low-Range $$

| Vegan, Vegeterian and Gluten-Free Options, Health Food, Organic
It's no surprise that there two locations of Sari Organik in Ubud, and a few more in other parts of the island; its great organic food, in beautiful settings, for a great value.
Their location in the rice fields is only accessible by foot, and it's an incredible walk through the countryside. Go for dinner and watch the sun set over the lush green rice paddies—this place is a winner for peace, quiet and beauty. Their other location is a 20 minute walk from downtown center, and includes a beautiful organic market downstairs that has all kinds of fruits, vegetables, nuts, spreads and spices.
Open three meals a day, try their great juices, tapas like fresh guacamole or falafels, or try their variety of pizzas (available vegan!)
They even do organic produce delivery to your home for an cheap price. And they avoid plastic which yogis love!
Mid-Range $$$ | Vegan, Vegetarian, Gluten-Free Options, Organic
Last, but certainly not least, is our own Amrita Restaurant.  Adhering to classical yoga guidelines of a healthy sattvic diet, our vegan restaurant places the mind/body connection as the foremost principle when designing dishes.
Our international cuisine, is specifically focused in helping the mind find greater, stillness, clarity and peace.  In addition to the healthy principles you may be used to we also avoid the use of garlic and onions in all our meals.  This allows the mind to maintain more stillness and makes yoga and meditation more effective.
Our Ayurveda inspired menu, largely sourced from local organic farms, also uses whole grains, rock sugar and coconut oil in place of their harmful, processed counterparts.
*Please note Amrita Restaurant is not open to the general public and is available only for our in-house yoga students participating in our yoga retreats, meditation retreats and yoga teacher training courses.
As yogis ourselves, we certainly love and appreciate Ubud and all the great restaurants which are full of healthy, organic, vegan, and vegetarian food that allow us to explore the world and our consciousness while keeping our bodies, the animals, the planet healthy and happy.