The Incredible Life of Amma Shri Karunamayi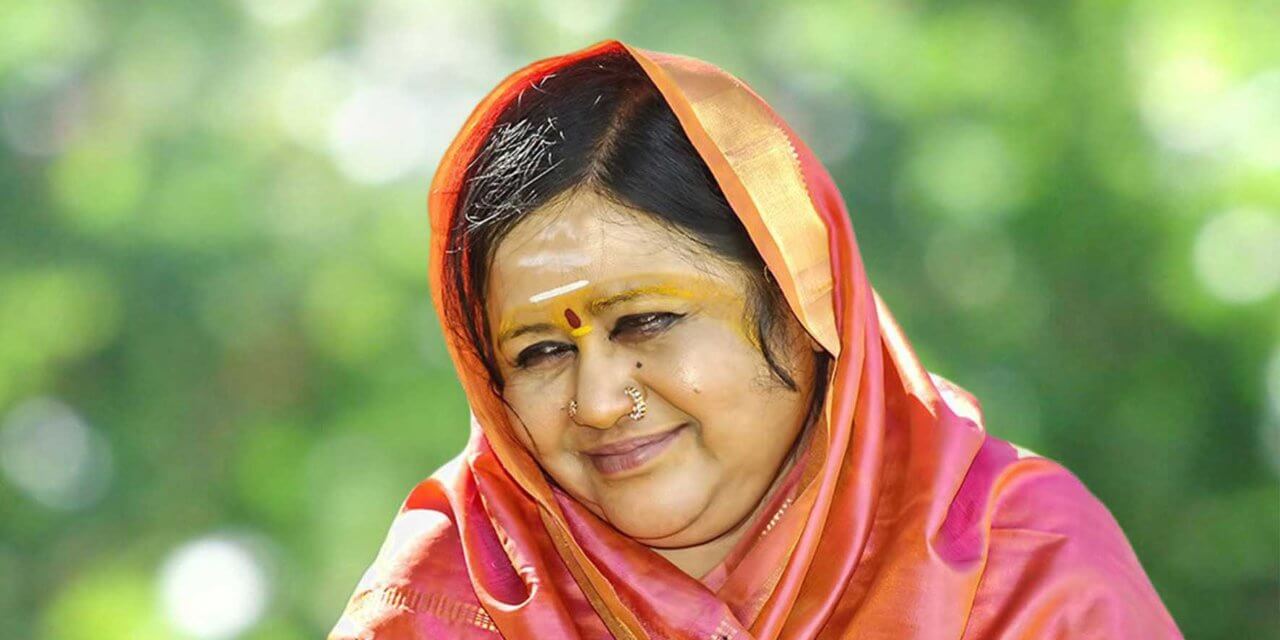 T

he incredible life of Amma Shri Karunamayi, is filled with miracles, Divine love, and the inspiration to reach our final destination- freedom and complete bliss.

Shri Karunamayi, known simply as "Amma", meaning "Mother", is revered as an emanation of Divine Mother.
Prophesized by great sages such as Bhagavan Shri Ramana Maharshi, Shri Karunamayi was predicted to grace this world as the embodiment of Supreme love and knowledge- in the form of Divine Mother. 
Amma's parents received very powerful signs and visions indicating that their daughter would be Divine. One such incident occurred when Amma's father went to the Chamundi Temple in Mysore, India to study Vedic scriptures in the vibrations of this holy Divine Mother temple. While studying, a little girl grabbed his books and prayer beads and went off running with them. Amma's father did his best to find and capture the girl, but mysteriously had great difficulties. Finally, he was lead to a very sacred and holy place in the temple where he caught the girl, and holding Her in his hands inquired as to why She had stolen the mala and books. The little girl laughed and instantly disappeared in thin air leaving below Her two footprints drawn on the floor, one made with holy turmeric powder and the other with holy kumkum (red vermillion) powder, and both having a perfectly drawn Shri Yantra (the highest symbol of Divine Mother as the matrix and Creatrix of the universe) placed inside them.
Shortly after this incident both of Amma's parents made a pilgrimage to the Chamundi Temple and witnessed a Divine light emanate from the inner sanctum of this Divine Mother temple and enter the womb of Amma's mother. In 1958, in the southern Indian state of Andhra Pradesh, Shri Karunamayi, was born on Vijayadashami, the most auspicious day of the year symbolizing Divine Mother's victory over the ego or ignorance. For this reason, Amma is also known as Bhagavati Sri Vijayeswari Devi, "the victorious Goddess".
Miraculous events continued to surround Amma
At the young age of 5, after being implored by Her father to give teachings on the Vedas, Amma gave long and profound discourses that left the learned Vedic scholars speechless. Since a child, Amma's intellect was that of a genius, She excelled in arts, music, and creativity and had perfect recall of memory.  Towards the completion of Her studies, Amma began to spend more and more time absorbed in prayer and meditation, culminating in a month of uninterrupted deep contemplation and meditation.
Finally, in the year of 1980, at the tender age of 21, Amma left the comfort and security of her parents' home and traveled by foot to the remote and sacred Penusila jungle forest in Andhra Pradesh. There She remained for over 10 years, living an austere life dedicated to meditation with the intent of uplifting humanity, bringing peace to the world, and reflecting upon the most relevant techniques for spiritual awakening for our present age.  After performing such intense spiritual practices, Amma decided that it was time to share Her knowledge and fulfill Her life's mission.
Ancient wisdom of the ancient Rishis and Enlightened Beings
An ashram was established in Penusila, in the same surrounding area where Amma had spent Her many years in spiritual practices.  Amma Shri Karunamayi shares the authentic and timeless wisdom of the ancient Rishis and Enlightened Beings with Her students in the Shri Matrudevi Visvashanti Ashram in India, offering yearly meditation retreats, Yogic studies, guided temple tours, powerful ceremonies for world peace and progress, and guiding a Veda Pathashala (school for the study of the Vedas).
"The one who gives up the sense of "I" will experience the blissful consciousness within;
such a person will forget the world in the madness of divine love."
(Amma Shri Karunamayi)
The Devi Mandir (Temple) within the Penusila grounds is the most powerful Shri Lalitambika (Divine Mother) temple in India, offering daily worship and special programs to promote peace and well-being for all beings everywhere.  A second ashram was built in Bangalore where the teachings and mission of Amma Shri Karunamayi continues. Amma also began Her work on serving humanity in the eradication of poverty, providing free medical care & housing for the disadvantaged, stopping child labor through free schooling and mentorship programs, and supplying water treatment facilities to impoverished communities severely affected by toxic water, to name but a few of the projects inspired and guided by Amma.
In 1995, Amma began reaching out to the world, beginning with the US, where She offers yearly public programs.  During these programs Amma gives teachings and blessings, holds meditation retreats, and performs sacred fire ceremonies for the benefit of all beings & the world. During Her visits to each city, countless individuals come to express their worries and problems and to request blessings or guidance. While each person experiences Amma's darshan, or direct contact with Amma, uniquely, everyone is touched by the depths of their hearts and feels the essence of coming home. Amma often likes to say that Her only work in this world is to remove the suffering from the hearts of Her children.
Amma reminds us that the root of all suffering comes from not knowing our True Self, and that if we seek to find the truth of who we are and realize our true purpose in life, all pain and suffering will be resolved thereby.
"You are boundless, you are infinite, you are immortal! Your Self is absolute oneness. Your Self is supreme consciousness—this is the final lesson". – Amma Shri Karunamayi
As with all the Great Mahatmas, Amma devotes each moment of each day to relieving pain and suffering for all beings everywhere, and guiding us home to eternal bliss and joy through Her endless outpouring of grace.